LinkedIn offers a number of benefits to businesses and employees to young professionals. It comes as no surprise that the LinkedIn network has grown to 400 million members around the world! To get the most out of this site, we are sharing some guidelines on using the different features of LinkedIn, so you can better Optimize LinkedIn Profile to help you build a powerful presence on the most popular professional social network.
 

How can You Make a Better LinkedIn Profile?
Please check out the following steps and optimize your LinkedIn profile with sheer perfection. You've to be definitive and provide point to point information in each step. Because you'll get specific number of characters to use such as:
Headline – 120 characters
Status Field – 140 characters
Summary – 2000 characters
Specialties – 500 characters
Company Name and Position (Job) Title – 100 characters
Position Description – 2000 characters
Interests – 1000 characters
Let's get started on How to Optimize LinkedIn Profile
  1.Your Name
This category does not require any careful thought or consideration but is very straightforward. The idea of LinkedIn profile building is for people to know who you are. That's why strictly follow the given hints. Your full name is important. You should use the exact version of your official name that you chose to be identified with. Avoid using nicknames and additional keywords with your names. Always capitalize the first letter of each of your names. All caps or all lower case looks unprofessional. Also you should avoid using any special characters or symbols.
This is not a segment where you want to score points but you can definitely give a horrible impression of your profile if you do not write your name properly.
For instance, have a look over my (Sajid Israq's) LinkedIn profile.

Got the idea? Make the first impression of your professional network stirring.
  2.Create a quality headline
This is the section where you create a value-centered headline using industry key words to describe your role, company and talents. This is a really important part because first impressions matter a lot. The goal of a headline is to give you the right kind of recognition. So it is vital to take a moment to consider the perfect headline that highlights what you do and who you are, in a creative way. So think of the keywords you want to be found for and craft it in 120 characters (that's all you get).
Ideally you would want to stand out in the search results by making your profile click-worthy. A catchy headline is great because it allows you to deliver on a promise to your readers.
Make Your LinkedIn Headline Stand Out in the social networking world. It's never too late to make some move.
Note: I found that link quite useful. Let your acquaintance know how to make a quality headline in LinkedIn
  3. Have a Professional Photo
Did you know you are 14 times more likely to be found with a photo on LinkedIn? Princeton researchers have found that people form an impression of you from your photo in 1/10 of a second! This is why your LinkedIn photo is so important. Your photo shouldn't be any photo of yours, so stick to a professional-looking photo of yours. It should be a front-facing photo of you that is not too old. Look professional in a high-resolution without looking stiff.
Every LinkedIn profile is a visual representation of one's profile. It's a good practice to smile on your photo because it makes the profile look more welcoming. A picture speaks a thousand words; so make good use of your profile picture on LinkedIn. Check out the given screenshot to comprehend how your picture should be.

4. A Cover Photo
LinkedIn introduced the option to add a cover photo in June 2014 so that users can give their profiles a bit of personality. Although, was only available for Premium LinkedIn members, now non-Premium account holders are also being given access to this feature.
So go ahead and be creative. Put a meaningful cover photo that resonates with your professional work, as it is an important part of making sure that you have an attractive LinkedIn profile.
Choose The Perfect LinkedIn Cover Photo that reflects your personality, thought and professionalism at the same time. By the way, do you have any say regarding that matter? Feel free to state folks!!
  5.Complete Contact Information
You are on LinkedIn, a place full of opportunities to make meaningful networks. How can you do so if people cannot easily reach you? Although it may seem like a no-brainer, a lot of people often forget to display their contact information. Provide an active email address. Put phone number along with Twitter, blog or website links and allow common users to get in contact with you easily and directly. Set an eminent goal in order to make it easier for people to contact you.
Apparently, there is no short cut of building a strong intuition without putting a well-constructed contact info in your LinkedIn profile.
  6. Summary
To have a truly optimized LinkedIn profile, use a profoundly built summary to represent your specialties and tell the world what you are good at. You can start with introducing yourself and what you can deliver to solve specific problems in a business. You are encouraged to give real-life examples and focus on your accomplishments to show your talent. To sound more natural and human, it's best to write your summary in first person.
In short, your LinkedIn summary is your bio – an impressive description of you. It must and must contain several solutions of queries like, how can you solve specific business-related problems? What does motivate you to do the work that you do?
It's best to talk more about your motivations and values than your experience, as it is right below your summary. An optimized summary is nothing without relevant keywords, so make sure you include company and industry-specific keywords to add value to your statements. The more relevant keywords you include will result in more potential traffic being brought to your profile. Have a look over the following screenshot to see what a good summery looks like.
Kim Brown, assistant director for Syracuse University's Career Services department, says
"The summary is the most important part. Having search terms and key words in your summary that are related to the job you're doing or want to do is going to make you more likely to be found by the recruiters and hiring managers who are searching LinkedIn for talent."
You have 2,000 characters to use in your summary. That is why, you are free to make full use of that but make sure your content is readable and easy-to-scan. Use subheadings, bullet points, numbered points and small paragraphs to make your summary more appealing to read.
Even though you cannot use HTML or links in the summary section, it's still a good practice to end your summary with some calls to action. For example, you can ask people to email you or reach out to you on LinkedIn or other social networks.
  7. Customized URL
Why not customize your profile URL to make it look neat and shareable? Your URL does not look appealing with the random alphanumerical characters at the end. Optimizing a unique LinkedIn profile URL can help you to convey a strong brand as you go about your networking and job searching. Your LinkedIn URL shall be customized as something like:
http://www.linkedin.com/pub/YOURFIRSTNAME-YOURLASTNAME/1/a59/374

Now, if available, use your common name only. Use your middle name if the common one is already used. In custom URL, make your last name followed by your first one, like "WilliamRobin". If nothing goes, add your profession or job title ahead of your name "MarketerWilliamRobin". You can also go for certification, professional designations, and degrees with name like "WilliamRobinCA".
  8. Experiences
This is the part of your LinkedIn that resembles a resume. It's meant to give a glimpse of your professional career. In this section, you are supposed to specify information in a way so that anyone (even someone outside your industry) can understand the work that you did and do.
Just like your summary information, here you also have 2,000 characters to describe your experience in a particular role/organization. Emphasize on your role-specific tasks, projects and try to highlight your input. Make sure your description is well organized and readable. If you can, add bullet points to itemize information. You are also encouraged to add relevant presentations, written or video testimonials, and or any other kinds of content in this section. You can even include a quote from one of your clients describing your work from either a LinkedIn recommendation or a letter of recommendation.
  9. Volunteer Experience and Causes
According to LinkedIn data, 41% of employers consider volunteer work to be as important as paid work. Volunteer work shows that you are able to commit to unconventional work, and you are an individual who is driven by certain social causes. That phase to optimize your LinkedIn profile is a great way to show your values and commitment to different causes. Unpaid or charitable work experience can be relevant for your next job. This part absolutely helps you look more interesting
So go ahead and improve your profile by adding causes you care about and organizations you volunteered for.
  10. Update your Connections
Being part of a large network matters because LinkedIn is a massive search engine. You will want to show up in your first-, second-, and third-degree connections' searches. In order to come up in their search results, you need to be connected with users at these levels. And only then those three levels will show up in your searches.
Your goal should be to increase the number of first-degree connections. After you have over 500 connections, you will get the 500+ mark next to your profile. Be considered part of the elite expert tier.
  11. Add / Update Publications
This is another useful section if you work with content. Whether you have a book, paper, or any kind of written document, add publications to take advantage of driving traffic to any kind of landing page or product page to showcase your strengths and knowledge. There are no restrictions on what a "publication" really is. This section is very flexible, which lets you create calls to action in a big, bold hyperlink title along with a short description about what can you can expect when you click the link.
Sometimes, the users tend to use LinkedIn like Facebook, which is completely a wrong approach. Any alternate thought that might come handy?? Don't hesitate to share.
  12. Adding Media
Make use of this option as this cool feature lets you show your work samples. You can add a variety of media such as Videos, Images, Documents, Links and Presentations to your Summary, Education and Experience section.
What's the Benefit? That part lets you showcase the quality of your work and do offer better chances to optimize  LinkedIn profile.
  13. Add / Update Projects
Have you worked on a project that you are proud of? It could be in your university or in your professional work. There could be more than one as well. This is where you show off your work.
Similar to a portfolio, this is a feature you should use if you have work samples you want people to see. Plan an outstanding description with names/brands and keywords (that you want to be found for) as they will add some weight to your projects.
  14. Review Skills and Endorsements
Firstly to get endorsed, you need to add skills that fit you to your LinkedIn profile. This is to show people where you excel and what you are good at.
Did you know you could add up to 50 skills? Obviously you don't have to add 50 skills but have at least 10 relevant skills to get quick endorsements from your connections for those skills.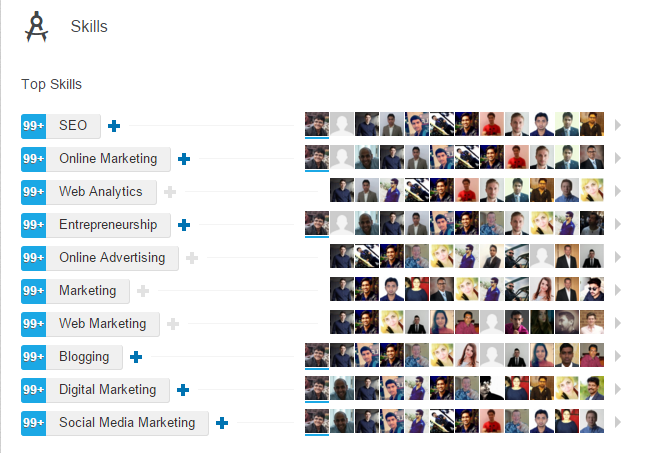 15. Join Relevant LinkedIn Groups
LinkedIn groups are great for networking opportunities. The best thing about it is, that there are so many to choose from!
However, the maximum number of groups you can join is only limited to 50. Hence try to join group that are relevant to your business or industry, ideally where your customers and prospects are. Also try to contribute to the discussions in these groups.
  16.Be Active
Finally after crafting your LinkedIn profile, you are encouraged to be an active user to enjoy the benefits of a truly optimized Linked presence. Update your status regularly and publish posts to get noticed.
There you have it, easy ways to optimize LinkedIn profile. If you take these simple steps, not only you will find yourself more discover able, but you will also have an appealing LinkedIn profile that can help you make valuable connections and achieve more networking possibilities. Can you think of other ways to optimize LinkedIn profile? And if you find any information stated here as new or interesting, don't forget to share it with your friends in social Media.
In case of any confusions, queries or new thought, you guys are more than welcome. Feel free to leave a comment.